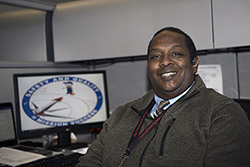 Goddard's annual Safety Awareness Campaign provides a weeklong opportunity to the entire center to review and learn more about how safety makes us more productive in our personal and professional lives. A robust safety culture not only reduces and mitigates the physical risks that are present in any work environment. It also promotes the long-term health and well-being of employees, who are Goddard's greatest assets.
This year's campaign, running from April 22 to 26, highlights the theme "Safety and Quality = Mission Success." The business of spaceflight is unforgiving, and as we have seen throughout NASA's history, minor mistakes or oversights can lead to unintended and unforgiving consequences for spacecraft and crew members. The nature of our line of work requires us to maintain the highest standards of safety and quality in all facets, from daily routines and mission development to launch and operations.
During our keynote address, Navy Cmdr. Glenn Rioux will talk about safety and quality issues and their importance to the success of the U.S. Naval Test Pilot School in Patuxent River, Maryland. Other select sessions will focus on automobile safety, respiratory and hearing conservation and protection, spotting problem trends on center, home health hazards, and addressing chronic fatigue.
Safety Awareness Campaign Website: This website is the most comprehensive and up-to-date resource for the campaign. It includes the latest information on scheduled sessions, courses and associated activities. Find out what's being offered, and sign up for courses requiring SATERN registration. You can also review the biographies of each speaker, link to webcasts, and provide feedback on courses you've attended or on the overall campaign.
Directorate Safety Stand-down Sessions: For the ninth consecutive year, directorates will host their own stand-down sessions in which they present safety issues and concerns that are specific to their organizations. These will include representatives from the center director's office, safety representatives from the directorates and a presentation by the code's director.
Webcasting: You will be able to watch presentations being given in the Goett Auditorium in Building 3; Hinners Auditorium in Building 8; and Building 34, Room W150, from your computer. Webcasting links will be added to this website.
As stewards of Goddard's mission, safety and quality are our collective responsibilities. On behalf of the center, thank you for making Goddard a safe place to work. We look forward to interacting with you throughout the campaign.
Vincent Williams
Chair, 2019 Safety Awareness Campaign